About Jamyang Khyentse Wangpo
Published on
May 12, 2023
Jamyang Khyentse Wangpo (1820–1892) was an extraordinary treasure revealer, scholar, and nonsectarian meditation master of Tibetan Buddhism who dedicated his life to preserving and propagating all Buddhist traditions.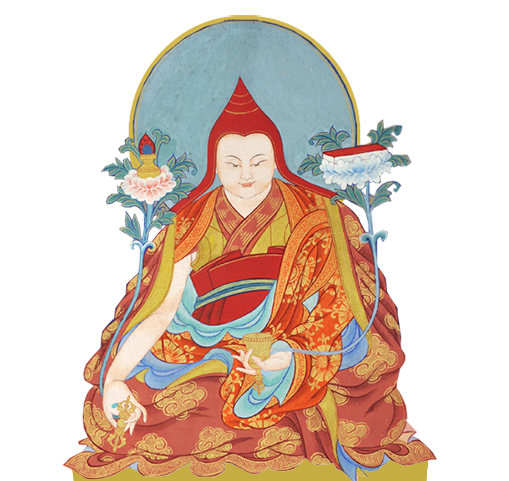 "Jamyang Khyentse Wangpo Kunga Tenpe Gyaltsen, otherwise known as Pema Ösal Do Ngak Lingpa, is the supreme example of someone who truly lived the Buddha's teachings."

—Dzongsar Khyentse Rinpoche
Jamyang Khyentse Wangpo was a truly exceptional master—an exceptionally accomplished scholar, meditation master, author, teacher, and treasure revealer—who charted an unlikely path through a tumultuous period of Tibetan history.
Khyentse Wangpo was born in 1820 in Derge, Kham. At the age of twelve, he was identified as an emanation of the Sakya Khenpo Tartse Jampa Namkha Chimé, though he chose not to be tied to any one tradition. He received monastic ordination at the Nyingma monastery of Mindröling and was later also recognized as an emanation of the great treasure revealer Jigme Lingpa. He spent many years wandering throughout Tibet, receiving and collecting teachings and transmissions of every kind. Khyentse Wangpo recorded having received teachings or transmissions from more than one hundred masters during his lifetime.
Eventually returning to settle in a small dwelling at Dzongsar Tashi Lhatse Monastery, he committed most of the second half of his life to retreat. However, this seclusion did not prevent him from carrying out an ever-wider sphere of activity. He is perhaps most celebrated for his collaborations with other great lamas and for his vast number of outstanding students.
Perfecting the dynamic display of the wisdom mind,
Propagating the Ati teachings in all directions as Jigme Lingpa;
Incomparable lord of the wheel possessing the seven transmissions,
Jamyang Khyentse Wangpo—I supplicate you!

—Generating Wonder and Glory by Jamgön Lodrö Taye
From the 1850s, Khyentse Wangpo collaborated so closely with Jamgön Kongtrul Lodrö Taye and Chokgyur Dechen Lingpa. Khyentse Wangpo revealed innumerable treasures in tandem with Chokgyur Lingpa, and in partnership with Jamgön Kongtrul he was responsible for the collections that became known as the Five Treasuries (Dzö Nga)—most notably the Treasury of Precious Termas (Rinchen Terdzö) and the Treasury of Precious Instructions (Damngak Dzö). He worked with  Jamyang Loter Wangpo to compile the collection of empowerment manuals known as the Compendium of Tantras (Gyude Kuntu), as well as the collection of liturgies known as the Compendium of Sādhanas (Drubtab Kuntu). He also produced eight volumes of songs and instructions from the Eight Practice Lineages (Drubgyu Shingta Gyekyi Sheldam Sung Gur).
Jamyang Khyentse Wangpo became an authority on the various teachings and lineages from the different schools of Buddhism in Tibet, as well as the Bön tradition. Rejecting sectarian bias, he encouraged his students to appreciate the profundity of all the existing traditions. This was known as the Rimé, or nonsectarian, approach.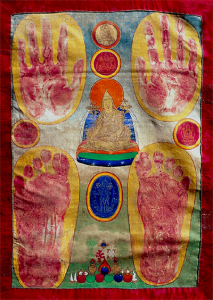 Khyentse Wangpo is regarded as the last of the five tertön kings who were prophesied by Padmasambhava in the ninth century, and he gained the epithet "Holder of the Seven Transmissions," referring to the fact that he held the seven transmissions of treasure teachings: those of the spoken teachings (kama), earth treasures (sater), mind treasures (gongter), reconcealed treasures (yangter), pure visions (dagnang), recollections (jedren), and the hearing lineage (nyengyu).
Upon his passing in 1892, Khyentse Wangpo left behind an immense legacy. When many Tibetans fled their homeland in the mid-twentieth century, the numerous collections he either compiled or inspired others to produce were transportable, which made it possible for many rare and precious teachings to be saved that might have otherwise been lost. His direct bequest to us is the preservation and transmission of countless Dharma teachings and the revival of lineages that might not otherwise have survived.
It is in the spirit of this broad vision, Khyentse Vision Project is dedicated to preserving and transmitting Jamyang Khyentse Wangpo's legacy for future generations who may not have access to the Tibetan language. At a time when Buddhism is spreading throughout the world, there is a great urgency to make the precious wisdom contained in his writings available to all.