About

Published on

February 24, 2021
Khyentse Vision Project is an exciting non-profit initiative under the umbrella of Khyentse Foundation.
Our mission is to translate the collected works of Jamyang Khyentse Wangpo. We intend to make this treasury accessible to a modern audience of both practitioners of Tibetan Buddhism and scholars of Tibetan history and culture.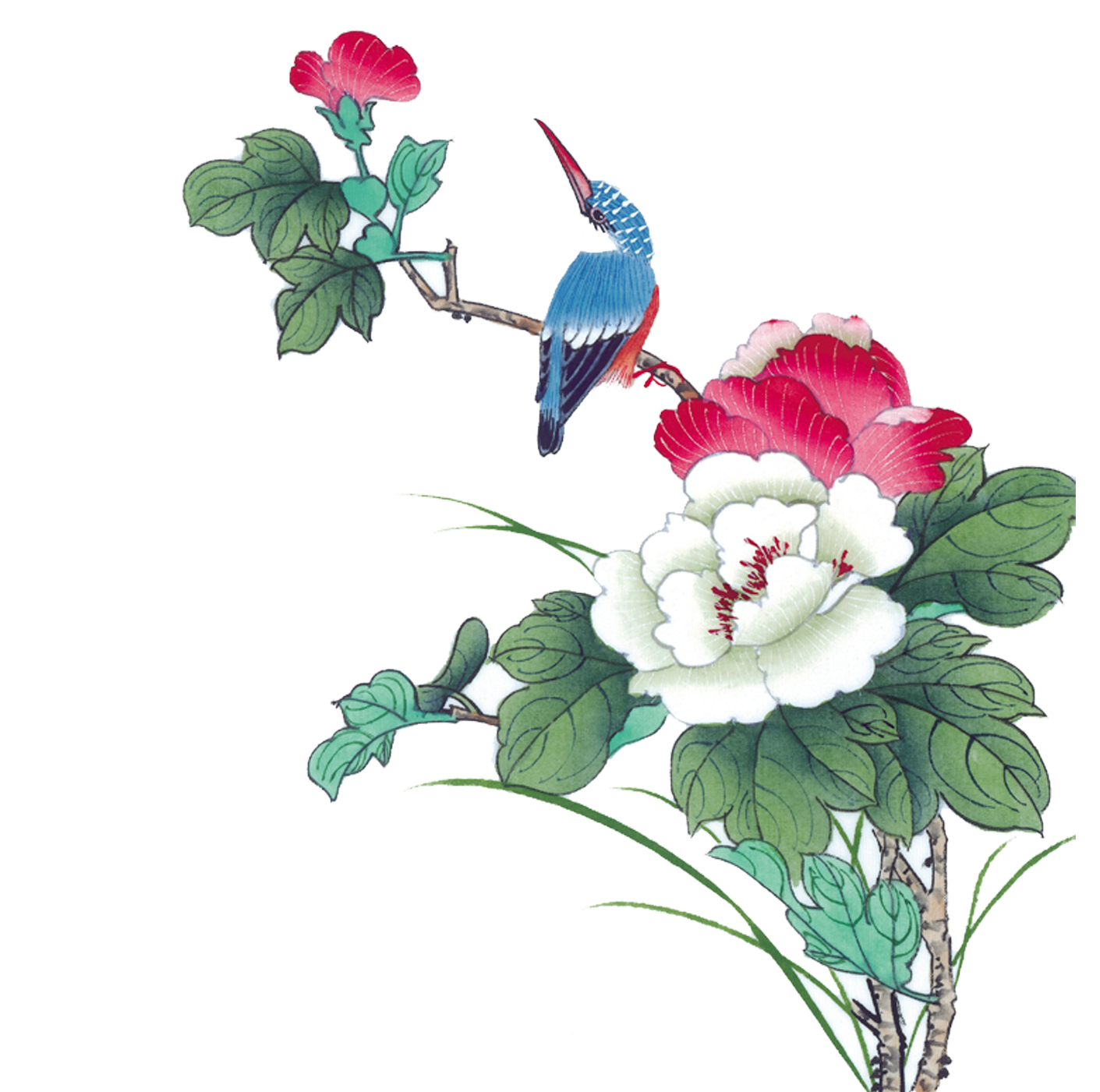 Project Scope
More than 16,000 pages of Jamyang Khyentse Wangpo's collected works remain to be translated, including both the original 13-volume Kabum (bka'  'bum) collection and the 24-volume Kabab dun (bka' babs bdun) collection of termas, instructions, and liturgies. 
Altogether, the translation of these collections is projected to take between 20 to 30 years to complete. The project will start with English translations and will eventually expand to include other languages.
Khyentse Wangpo's collected works cover an enormous variety of subject matter, ranging from medicinal recipes and scientific treatises to tantric sadhanas and Dzogchen termas. His writings include geographical guides, biographies, histories, ngöndro instructions, empowerment texts, pith instructions, vajra songs, and lineage praises. The diversity of material found in these collections demands a correspondingly wide range of expertise, experience, and qualifications from our translators and editors.
Our aspiration is to widen the scope of the project in the future to become a hub for the translation of all the masters of the Khyentse lineage, in collaboration with other organizations, such as Tsadra Foundation and Lotsawa House.
"Jamyang Khyentse Wangpo Kunga Tenpé Gyaltsen, otherwise known as Pema Õsel Dongak Lingpa, is the supreme example of someone who truly lived the Buddha's teachings."

—Dzongsar Khyentse Rinpoche
About Jamyang Khyentse Wangpo
Jamyang Khyentse Wangpo was a truly exceptional master—an extraordinarily accomplished scholar, mystic, author, teacher, and meditator—who charted an unlikely path through a tumultuous period of Tibetan history.
Khyentse Wangpo was born in 1820 to an elite family in Derge, Kham. At the age of twelve, he was identified as an emanation of the Sakya Khenpo Tartse Jampa Namkha Chimé, but he chose not to be tied to any one tradition. He received monastic ordination at the great Nyingma establishment of Mindroling and was later also recognized as an emanation of the great Nyingma master Jigme Lingpa. He spent a total of thirteen years wandering throughout Tibet, receiving and collecting teachings and transmissions of every kind. All in all, he recorded having received teachings or transmissions from more than one hundred masters during his lifetime.
Eventually returning to settle in a small dwelling at Dzongsar Tashi Lhatse Monastery, he committed most of the second half of his life to solitude. However, this seclusion did not prevent him from carrying out an ever-wider circle of activity. He is perhaps most celebrated for his collaborations with other great lamas, and for the vast number of outstanding masters who were his students. 
During the 1850s, Khyentse Wangpo collaborated so closely with Jamgön Kongtrul Lodrö Thaye and Chokgyur Dechen Lingpa that the three became known as the "Great Triumvirate" (mkhyen kong mchog sde gsum). Khyentse Wangpo revealed innumerable termas in tandem with Chokgyur Lingpa, and in partnership with Jamgön Kongtrül he was responsible for envisioning and designing the collections that became known as the Five Treasuries (mdzod lnga)—most notably the Treasury of Precious Terma (rin chen gter mdzod) and the Treasury of Oral Instructions (gdams ngag mdzod). He was responsible for encouraging Jamyang Loter Wangpo to compile the collection of Sakya empowerment manuals that became known as the Complete Collection of Tantras (rgyud sde kun btus), and he himself organized a collection of Sakya liturgies known as the Complete Collection of Sādhanas (sgrub thabs kun btus). He also produced eight volumes of songs and instructions from the Eight Practice Lineages (sgrub brgyud shin rta brgyad kyi zhal gdam gsung mgur).
Khyentse Wangpo became an authority on all the different teachings from the different schools of Buddhism in Tibet, as well as the Bön teachings. Shunning sectarian bias, he encouraged his students to appreciate the profundity of all the existing traditions. This approach became known as the Rimé, or nonsectarian, approach. He was regarded as the last of the five tertön kings who were prophesied by Guru Padmasambhava in the ninth century, and he gained the epithet "Holder of the Seven Transmissions," referring to the fact that he was the only master to hold the seven transmissions of treasure teachings: those of the spoken teachings (bka' ma), earth treasures (sa gter), mind treasures (dgongs gter), reconcealed treasures (yang gter), pure visions (dag snang), recollections (rje dran), and the hearing lineage (snyan brgyud).
When he passed away in 1892, Khyentse Wangpo left behind an immense legacy. When Tibetans were forced to flee their homeland in the mid-twentieth century, the numerous collections he either compiled or inspired others to produce were easily transportable, which made it possible for many rare and precious teachings to be saved. His direct bequest to us is the preservation and transmission of countless Dharma teachings, and the revival of lineages that might not otherwise have survived.
It is in the spirit of this broad vision that we have initiated the Khyentse Vision Project—to transmit and preserve Jamyang Khyentse Wangpo's legacy for future generations who may not have access to the Tibetan language. At a time when Buddhism is being established throughout the world, there is a great urgency to make the precious wisdom contained in his writings available to all.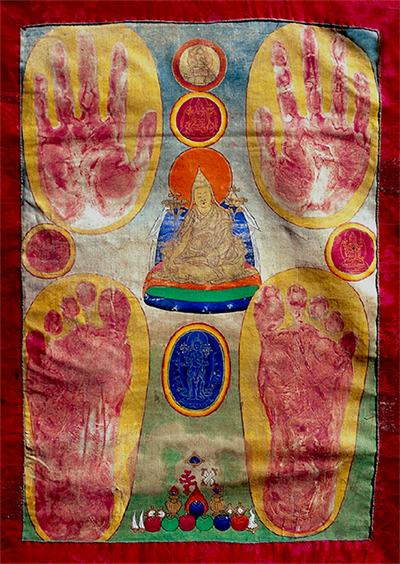 At the center is Jamyang Khyentse Wangpo, accompanied by his actual hand and foot prints. His right hand is extended across his knee, palm up, holding the stem of a lotus blossom, upon which is a sword and book – emblems of wisdom and Sutra erudition. His left hand is in his lap, cradling a vase, while holding the stem of a lotus blossom that rises above his left shoulder.  Resting upon the lotus is a vajra and bell – emblems of Tantra. Attired in the garb of a fully ordained monk, he wears a pandita hat with three rings, representing the accomplishment of mastering all three components of the Buddhist Tripitaka.